Marketing saw a drop in budget share last year from 11.0% to 6.4%.
This means marketers now crave leads more than ever. And now they have a tight budget to achieve their goals.
I see two problems here.
Marketers can't spend as much money as they used to spend on tools and technologies. So, they need to make conscious choices when it comes to picking the right software. (More on this later!)
Secondly, they need to supercharge all their lead generation channels, no matter how small they are.
Come to think of it, nobody pays attention to their contact forms, a.k.a. lead generation forms. It's easy to optimize these forms and takes minimal time. 49.7% of companies admit that lead gen forms bring them the highest conversion.
Their secret? Great design and simplicity.
And that's what we'll talk about today.
This blog covers 8 powerful lead generation forms examples and discusses why they drive conversion to the business.
Additionally, you can find top actionable ways to optimize your lead generation form to capture leads and improve your form conversion rates.
What is a lead generation form?
A lead generation form is an online form that captures prospects' contact details, such as email, contact number, or any other personal details as per the company's requirement.
Businesses use web forms in numerous ways, but the ultimate aim is to capture information that you can leverage at a later stage in your sales process.
The bigger picture is to know prospects from every angle possible, and their contact info is just one of the steps.
Some common lead generation form examples are contact forms, customer feedback, registration, survey, meetings, and newsletter signup forms.
See the image below to learn the various lead generation forms used by B2B and B2C businesses to grow their customer base with marketing and sales-qualified leads.
Let's begin with the real crux of the blog; lead generation form examples.
8 Insightful lead generation form examples
About 50% of marketers believe that inbound marketing strategies, such as online lead forms, are helpful in acquiring potential leads. Businesses use web forms to run their lead generation engines and make sales pipelines rich.
Let's begin with the best lead generation form examples of various brands and industries to get the best insights for more conversions.
1. HyperOffice: Lead form to generate quality leads
The foremost lead generation form example is from HyperOffice. With little tweaks, their contact us lead form stands out and helps them get more quality leads. Let's know how:
Highlights:
HyperOffice has created a personalized question based on the customer's inquiry intent.
The question, "Which Product Are You Interested In?" with the drop-down list, made it easy for them to segment them based on their product interest.
If the prospects have issues to discuss, the form has a "How Can We Help?" section. It helps the sales and marketing teams to know prospects' pain points and solve them for better form conversion rates.
Such kinds of forms can potentially help B2B businesses segment and identify sales leads for dedicated products (if you have multiple products).
It's also a great start to the lead qualification process. Marketing teams spend hours to qualify leads for individual products, and such filters save them enormous time!
The above lead generation form was built using Salesmate CRM's Web Forms.
2. DocuSign: Free trial lead gen form
DocuSign is a cloud-based software that allows you to electronically sign your documents and agreements.
Check out the sign-up form DocuSign uses:
Highlights:
The message "Try DocuSign free for 30 days" is snappy.
"No credit card required" is rightly placed and is enticing and convincing to sign up. And it's much safer for the end user!
Asking for emails only; they use it for lead nurturing via email marketing.
"Reason for trial" catches attention, and the drop-down options will help their team; segment leads based on the client's usage. This way, their sales team can invest time in more meaningful leads.
The CTA button color is eye-catchy, and "Get Started" is actionable.
3. Salesmate: Book a demo
When it comes to lead gen forms, 'Contact Us' forms come to our minds.
But that's just one use case.
You can generate leads using meetings, demos, discovery calls, and much more.
Here's an example of our own:
Highlights:
The left side gives out enough details on sales demos, timing, and other ways to connect with the Salesmate team.
One-click options to choose time zone, date, and timeslot.
Once a user finalizes a timeslot, we ask them the usuals – email, phone number, country, etc. (So we can assign the best person to help you understand Salesmate.)
Book more meetings in 3 simple steps!
Create your own calendar and bring meeting data right into your CRM.
Explore Meeting Schedule
4. Slack: Lead form to get SQLs
Slack is a messaging app that helps businesses to better connect and share information amongst colleagues or potential customers.
Slack allows a free trial to users, and this landing page is perfect for someone who likes the product and wants to take it forward.
Highlights:
The title, "Contact our sales team" lets visitors know that this route will lead them to price and purchase-related discussions. The three checkmarks below the title support this messaging.
If you notice, most of the fields are marked with asterisks, so they all are compulsory. You can follow the same practice while designing your lead gen forms.
The question, "How can our sales team help you?" is helpful for their sales team in preparing their sales pitch.
Reflecting leading brands as their clients adds a trust factor. Slack has brilliantly used native brands based on your location. So if you're from the US, you'll see brands like Uber, Intuit, Target, etc. If you're from India, you'll see Swiggy, Zomato, Meesho, etc.
In the same way, you'll see a testimonial from a native brand.
5. Dropbox: Lead generation with simple "Create an account" form
This lead form of Dropbox is a perfect example to show a simple form with no extra elements can be effective in conversion.
Lead form highlights:
It does not have any distractions and effectively uses white space.
The ask is minimal; name and email only.
The CTA button color reflects the brand's identity.
The "Sign up with Google" option offers potential leads an easy and quick path.
6. Harvest: Lead form with product features
Harvest has created a simple yet high-converting lead form landing page. Let's find out what makes Harvest's lead generation form so distinctive.
Highlights:
In the above image, you see Harvest smartly placed their features along with the benefits to entice the target audience to sign up.
"70,000+ COMPANIES" as customers is impactful. That motivates new users and gives them a sense of relief that they are in good company.
Harvest kept "Sign up with Google" first to make the experience quicker.
Bright and totally a different color CTA button catching eyes.
Customer showcase at the bottom for an additional push.
Create high conversion lead gen forms in minutes!
Build forms and start lead nurturing automatically, within Salesmate.
Explore Web Forms
7. InvoiceBerry: Lead form with question title
InvoiceBerry has created a simple and amusing lead generation form with actionable copy, saying, "Sign up and start sending invoices now!"
Lead form highlights:
Title as a question; "New to InvoiceBerry?" form raises alertness.
InvoiceBerry asked only for an email. They've shortened the sign-up process compared to other examples we've seen.
Interestingly, the signup form is a popup. It doesn't lead you to another page. You can sign up from any page you want! This practice helps InvoiceBerry find its best converting landing pages. If you notice, in Salesmate, we follow the same practice. It gives us opportunities to fix boring landing pages that visitors don't like!
In Salesmate's popup, you'll see the same style, but we offer a 15-day free trial. So we've highlighted that along with other USPs.
8. Livestorm: On-demand demos + Lead generation
Livestorm is a video conferencing tool to host events, webinars, or virtual parties.
Instead of going live with their demos, Livestorm pre-recorded them. Now, users can request this recording in exchange for their email address.
Let's talk about this page in-depth:
Lead form highlights:
The very few lines tell us how pre-recorded demos are much more convenient.
Livestorm shows us that it only takes 30 minutes.
Gives enough details about the hosts. As we can see, both hosts are credible people to help you understand the product.
At the top, you can easily get the demo link by signing up with Google or giving your email address.
6 tactics you can use while designing your lead generation form
Create lead generation form design as per your design guidelines. I'd suggest you consult your design team for this task.
Find the most suitable place for the lead gen form on the landing page. Make sure visitors don't have to scroll to the end to feed their information.
Use testimonials, client logos, USPs, and awards next to lead gen forms. These items highly motivate people to signup and provide social proof. They also add a trust factor, so you'll see fewer bounce rates on this page.
If you're considering popups for digital lead generation, make sure to add a blur effect when the popup is activated. It gives visitors the illusion that they're in the next stage of the process.  
Add an appropriate post-submission message when prospects fill out the lead generation form. Another interesting way is to share valuable resources they can read or give out links to your YouTube channel after the submission.
Connect your lead generation form with a CRM. Most businesses collect leads, and they waste so much time jumping back and forth between tools.
How to bring your lead generation forms data into CRM without losing so much money?
I talked about the tight budget of marketing teams earlier, and I have a perfect solution for you.
But let's look at the core issue first – How to bring lead generation form data into CRM?
There are multiple ways to do it:
Integrate your lead gen form builder tool with your CRM. For example, if you use Gravity Forms, you can connect it with your CRM using their add-on. Remember, it may cost you more money based on subscriptions.
You can export the data from these forms and send them over to sales manually. Who wants that?
Or you can use lead generation CRM that also provides a built-in feature of web forms, just like Salesmate!
Creating web forms in Salesmate is super easy!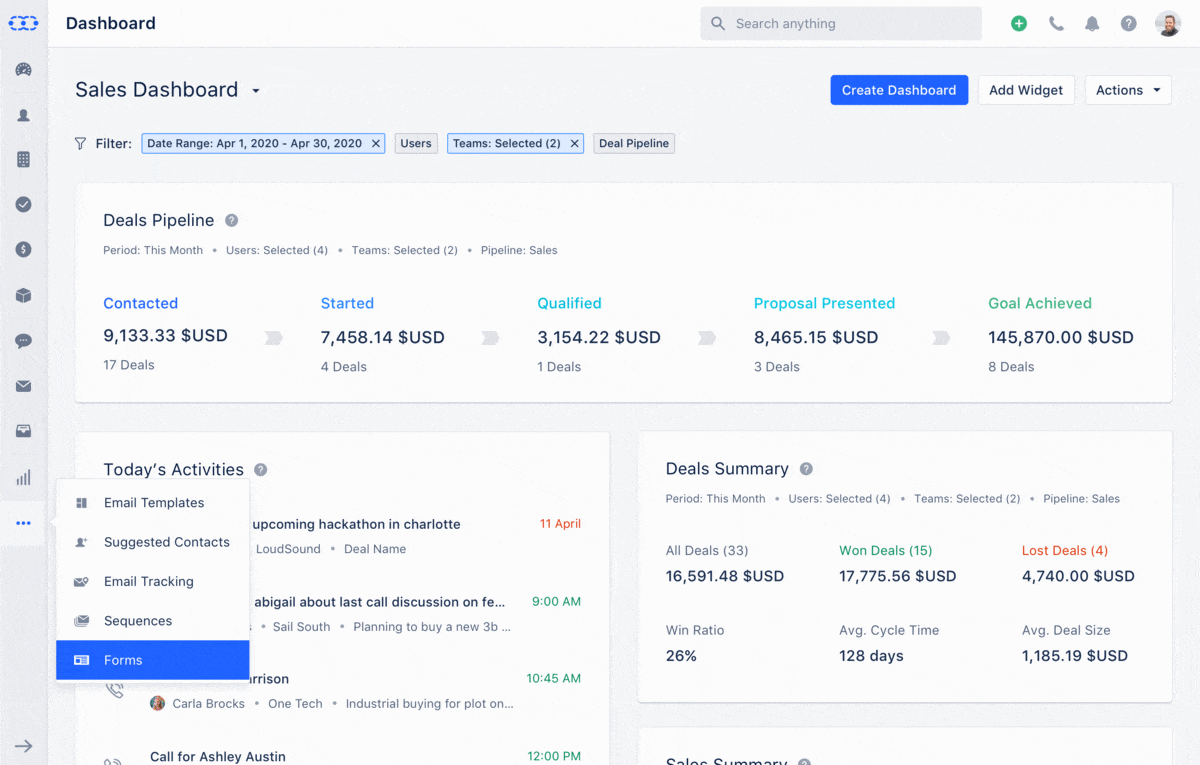 You have all the modification options from CTA button text to custom styling of the form.
Not just that, you can also define how you want to save captured data in Salesmate.
You don't have to give any effort after pushing the lead generation form live. Visitors will fill out the form, and Salesmate will keep adding this data to your list automatically!
That's not it! You can set up automation based on the collected emails also. For example, a welcome email or an introductory offer for new potential customers!
All you have to do is create your web form in 7 easy steps:
Head over to the 'More' section and select 'Forms'.
Click on the 'Form' button in the top-right corner to create a form.
Edit the form's details, such as form name, title, introduction, and the submit button text.
Then, you can either utilize the pre-defined fields or add new ones to capture information that's important to your business.
After this, you can edit options like choosing the action after form-submission, enabling double opt-in, adding a privacy policy, enabling ReCAPTCHA, and more.
To change the appearance of the form, you can edit the background color, form background & border color, buttons, and more. You can also change the appearance by using the option of custom CSS.
Finally, if you wish to push the lead generation form live, hit the 'Publish' button or click on 'Save' to edit the form later.
FAQs on lead generation forms
How to turn my website visitors into new leads?  

Try to offer easy navigation for them to roll on over the website. Provide valuables offers that entice them to sign up. For example, a free eBook on marketing strategies followed by 25 unicorns!

Some essential tips to win with lead generation forms

Create Web Forms to meet different objectives
Conduct A/B testing
CTAs must be snappy and actionable
Use social proof around forms
How do I increase my lead form submission rate?  

Be straightforward and avoid distractions. A thorough understanding of your target audience will help you to build an actionable Web Form.
How can I create more interest in my product?  

Lead generation tools like Chatbots, Web Forms with downloadable or discount offers, and Live Chat systems can support extensively to boost customer interest. Follow multiple lead generation tactics to get more high-quality leads for your business.
Start winning deals and life-long customers
A single platform for marketing, sales, and customer success
Save more than 40% money on multiple subscriptions & integrations
A single source of data for your entire business
Industry-best automation to save you hours everyday!
Start with a risk-free 15 days trial, and pick from pricing plans starting at just $12/user/month.